Sea Dwelling Creatures, Inc.

Gem Tangs are
IN STOCK NOW!!
_________________________
SDC has a fantastically healthy and beautiful supply of
Fox Corals IN STOCK NOW!! 
Moderate lighting and low flow are the keys to these beauties. 
__________________________
Dear Sea Dwellers,
This is the best time of year to see all of the cool animals that come through Sea Dwelling Creatures.
SDC is happy to share our newest and coolest fish & corals with everyone from the hobbyist
to the Local Fish Store (LFS) through "SDC News".
For the hobbyist, we recommend that you show and tell your favorite LFS about all of the goodies that you want from SDC.  They will be able to quote you pricing and let you know when their shipments will arrive.  If your LFS is not ordering from SDC then perhaps you can request that they do.  SDC has been around for over 20 years and has diligently worked to be the highest quality wholesale fish and coral distributor in the country, and happens to also be the largest! We also have the greatest variety and inventory as well as the best pricing across the board, which makes our competition cringe.
It's simple, we buy more, get better pricing and pass it along to the LFS.
SDC gets in hundreds of boxes of fish and coral nearly everyday so our inventory is constantly changing.  For the most up to date daily news, check out our Facebook page (Click Here SDC on FB). We started out as hobbyists too and continue with that passion to this very day!
SDC has the largest team of Marine Biologists in the industry.
We aren't joking.  Our dedicated staff offers hundreds of years of experience.  Some others claim they are top notch but they don't know top notch unless they have witnessed our team in action.
Feel free to browse our website to see our top of the line WYSIWYG Corals in
"The Furnace" at SDC… Where the HOTTEST corals in the world reside @
www.seadwelling.com
Thank you for subscribing to SDC News.
We strive to continually provide the best animals at the best pricing!!
___________________________________________________________________________________________
Super Cool Wrasses
@ SDC

___________________
 
Maxima Clams @ SDC
_______________________________________________________
Exclusively in
"The Furnace"
Wholesale WYSIWYG @ SDC
Find it and other "HOT" corals and then contact your
favorite retailer for prices and availability.
Tell them you saw them in
"The Furnace @ Sea Dwelling Creatures!!"
________________________________________________________________
SDC never stops improving our facility.  We continue to build and reformat existing areas.  In this case we have started construction on our 19th and 20th packing tables to accommodate even more business that has been coming our way.  Thank you all for your patronage.  We truly appreciate it and will continue to ramp up our efforts to provide the best possible animals and the best possible pricing!!
___________________________________________________________________________________
Ordering Suggestion:
PLEASE order as early as possible for best selection and flight bookings.  It is highly recommended to get your orders in the day before we ship and two days before you want to receive it.  You can always add or subtract on the day the order is being packed but we must stick to our "first come, first served" method of fairness to all.

It is THAT time of year!! 
A helpful reminder from your friends at SDC
Thank you for your patronage!!
____________________________________________________________
This Week @ SDC…
Customer Appreciation Special
Aussie Super & Ultra Lobo's!!
These 3″ tall Shrimpfish are feeding out of a bottle on Juvenile Brine (Artemia nauplii) that is hatched and sold here at SDC.
Let your favorite retailer know if you want to try them or the
food and they can give you pricing and their in stock date.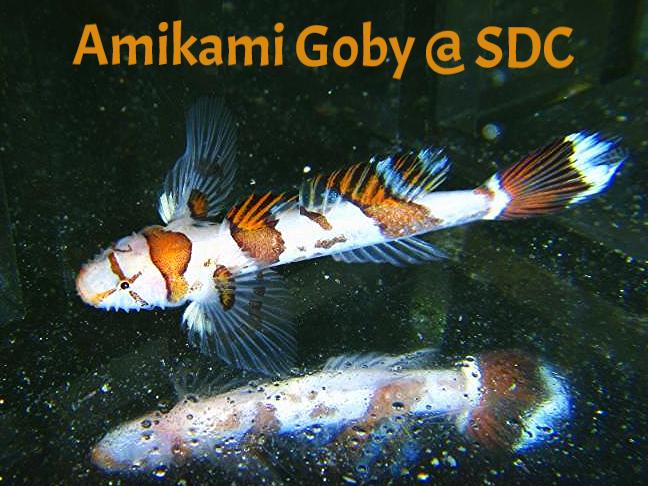 ______________________________________
"THE FURNACE"
WHOLESALE WYSIWYG
@ SDC IS ON
Hundreds of HOT corals
to choose from!!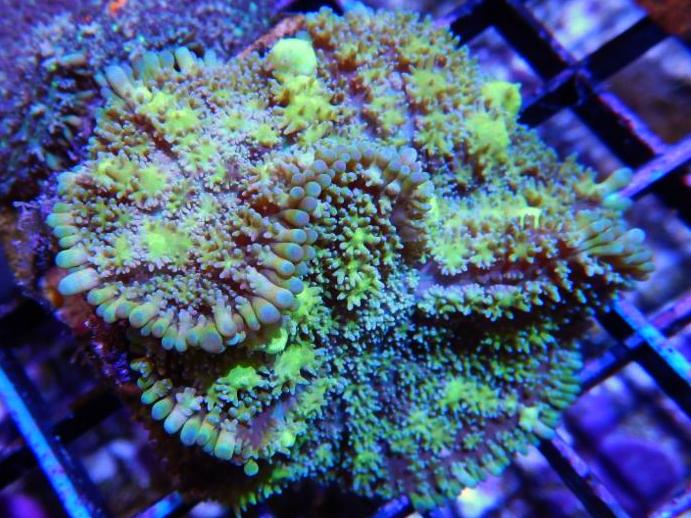 Everybody can see them at www.seadwelling.com
(look for "The Furnace WYSIWYG" on the left side of the home page)
Contact your favorite retailer for prices and tell them you saw this at
Sea Dwelling Creatures!!
__________________________________________________________________________________________
IN STOCK NOW @ SDC


______________________________
This week's
"Loss Leader Specials"
SDC continually strives to find ways to bring you
more affordable and profitable options to stimulate sales.
We have come up with the "Loss Leader Specials" to give stores items to offer at some of the lowest pricing ever seen in our 20+ year history!
Rainfordi Gobies
Limit 6
Lawnmower Blennies
S-SM-M… MIX & MATCH Limit 6
Blue (Hippo) Tangs
T-S-SM-M… MIX & MATCH – Limit 6
Firefish Gobies
Limit 6
Emerald Crabs
Limit 24
Cerrith Snails
Limit 200
Colored Condylactis Anemones
Limit 4
See our stock list for pricing. Good on orders of $450.00+
Limits apply for special pricing.
Any amounts ordered above the limits will be at regular price.
++++++++++++++++++++++++++++++++++++++++
1 Christmas Wrasse
(Indo Pacific)
1 Bar Goby
1 Alleni Damsel
For less that the price of just the
Christmas Wrasse
at most wholesale facilities!!
 40% in Savings!!
Good on orders of $450.00+
If items are not available, we will substitute other items of equal value.
_______________________________
Do you want to see it first??
This Rhinopias
first appeared on SDC's Facebook Page
 and was SOLD immediately!!
Don't miss out.  "Like" us on Facebook today.
See ourFacebook page for regular updates of
the latest and coolest items that swim through SDC!!
Search
"SEA DWELLING CREATURES"
or

______________________________
______________________________________
Carl's Creatures
of the week…
These little guys have TONS of personality and are hearty eaters.
Great for nano aquariums!!
______________________________
What to do if your
shipment is delayed or lost
We want to remind everyone what to do if your shipment becomes delayed or lost.
Contact you SDC Sales Rep immediately to help expedite the shipping process and to help you with the process of doing a claim.
No matter if your shipment is two days late or a week late, it is ultra important to pick it up from the airlines so that SDC can have a chance to get a freight claim on your behalf.  Regardless of what the airline rep says, ONLY THE SHIPPER (SDC) is allowed to do a claim.
In most cases, shipments that have been in transit for more than 48 hours have a very good chance of receiving a claim.
Helpful hints… Request a claim form from the airline representative.  Get them to notate what the circumstances are with your order.  Notate if the boxes are damaged or leaking.  If they do not have a claim form then feel free to bring your own with you by downloading it from your airlines website.  If you do not have a claim form then write some notes on the airway-bill BEFORE you load the freight on your truck and ask the rep to acknowledge what you mutually agree on by signing and printing their full name on the airway-bill or the claim form.
The next step is to get the fish back to the store and carefully acclimate them.  Neutralizing the ammonia is the most important part of the process.  First, float for temperature acclimation.
Next cut open the bags and pour the fish gently into your buckets and measure the pH & ammonia levels.  Neutralize the ammonia and begin to drip acclimate slowly.
While you are acclimating you can notate the DOA's on a copy of the invoice that we sent to you.
Please photograph the DOA's which can greatly aid in our attempt to get your claim. This is best done by lining up the DO fish on the white Styrofoam lid that accompanies the box.
We will need you to fax/email the DOA's along with the claim form, photos and the airway-bill as soon as possible along with any other useful information about the situation.
While every situation has its own particular set of nuances, this is a general guide of the most important steps.
In review…
-Never Refuse a shipment… No one wins and everybody loses.
-Contact your SDC Sales Rep immediately if there is some unusual delay.
-Get a signed document from the airlines (claim form or airway-bill) detailing the circumstances.
-Neutralize Ammonia before introducing a different pH level to the fish
-Send DOA's, Claim Form, photos and YOUR Airway-bill copy to your Sales Rep.
Most of you will never have to deal with any of this but we want to make sure that you are aware of the proper protocol in the event of a claim situation.
Thank you all,
_______________________________________
IN STOCK NOW at SDC!!
______________________________________
SDC TANK RAISED
~FRESHWATER BETTAS ~
AMAZING NEW FRESHWATER BETTAS OF BORNEO
This week at Sea Dwelling Creatures!!
In celebration of the new AMAZONAS magazine
article "WILD BETTAS", we are offering
our own SDC Tank raised "Wild type Bettas".
We are proud to offer these amazing tank raised
mouth-brooding Bettas of Borneo.
Adult Pairs of Betta gladiators & Juvies
Betta enesae (Blue line mouthbrooding betta) unsexed juvies
Betta patoti baduk Reds…(red tiger betta)
Betta Macrostoma marudi (Sultans Betta)
unsexed juvies & sexed juv pairs
(check out the photos of MOM and DAD!)
 2 pairs of Betta albomarginata (white trimmed betta)
and 1 pair of Betta rubra (Ruby Betta)
                     Betta rubra                                     Betta patoti

Mom                                         Dad
Betta Macrostoma marudi (Sultans Betta)

Macro Babies
Betta Macrostoma marudi (Sultans Betta)

Betta albomarginata (white trimmed betta)
            Betta gladiators Juv.                       Betta gladiator Adult
Betta enesae (Blue line mouthbrooding betta) unsexed juvies

Betta patoti baduk Reds…(red tiger betta)
The breath taking nuptial dance of colors exhibited by this
little known group of fish, will bring back that child like passion,
even to the most jaded of fish enthusiast so… Dive into the incredible
World of Wild Bettas. You know you'll be happy you did!
___________________________________________________________________
CultureMax
Biomedia
Saltwater & Freshwater
is IN STOCK NOW!!
Treats up to 50 gallons
              Saltwater Formula                        Freshwater Formula
CultureMax is a revolutionary LIVE biological filter media
that will enable you to cycle your aquarium in 1 to 3 days.
Our high performance bio-media is cultured using our patented
Advanced Live-Matrix technology and will remain potent
for 2 years from the date of culture.
CultureMax can be used to establish new aquariums or to
boost your existing aquarium's biological filtration.
In order to achieve the best possible biological filtration you need a bio media with the highest possible surface area for the bacteria to grow, and a strong, diverse bacterial population.Culture Max has over 150 times more surface area than plastic bio balls and many times more surface area than the leading biological filter media. We have created the perfect combination of biological media together with a powerful blend of LIVE bacteria to ensure superior biological filtration over other existing products.  Our super porous biological filter media has tremendous surface area for the colonization of our powerful ammonia and nitrite eliminating bacteria and the right size pores to provide an internal structure for our nitrate and phosphate-removing bacteria to flourish.
Directions:
Nitrifying bacteria need a lot of oxygen to function properly. For best results and quicker cycling install an air pump to add vigorous aeration to the aquarium.  New Aquariums: Set up aquarium and equipment, adjust PH, and temperature to proper levels and dechlorinate the water before adding Culture Max.  Remove filter socks and leave them out for a week, turn off your UV and ozone generator 48 hours prior to adding Culture Plus to avoid killing the bacteria and leave them off until the aquarium is fully cycled.  Add no more than three 2″ fish per 10 gallons within 24 hours of adding Culture Max to provide food for the bacteria.  Do not feed the first day and then feed lightly for the next 3 days.  DO NOT RINSE CULTURE MAX, simply place the Culture Max biomedia pouch in your filter in such a way as to insure the water flows through the mesh bag.
Add filter floss before Culture Max to filter out particulates before the water flows through the Culture Max biomedia mesh bag in order to keep the Culture Max biomedia clean.  We have included additional bacteria in the pouch to help seed the rest of your aquarium, simply add the remaining water from the package directly into your aquarium.
Each pouch treats up to 50 gallons.
Effectiveness will depend on your filtration system's efficiency, how heavily stocked your aquarium is, and how careful you are not to overfeed.  For best results double the dosage for every 50 gallons.
Culture Max cannot overdosed.  NEVER RINSE Culture Max live biomedia under tap water.
Should your bio media become dirty simply dunk and shake the mesh bio media bag in a bucket filled with aquarium water to dislodge debris.
DO NOT FREEZE OR EXPOSE TO EXTREME HEAT- STORE AT ROOM TEMPERATURE
Existing Aquariums:
Follow the directions above.
Only leave U.V and ozone off for a week after adding Culture Max.
Check your Ph, temperature, and dissolved oxygen to make sure they are in the correct range.
Each pouch treats up to 50 gallons.
Effectiveness will depend on your filtration system's efficiency, how heavily stocked your aquarium is, and how careful you are not to overfeed.
For best results double the dosage for every 50 gallons.
Culture Max cannot overdosed.
To maintain optimum performance, CultureMax should be rinsed in aquarium water once a month to remove any accumulated debris and dead biofilm.
Simply dunk the CultureMax pouch in clean aquarium water and shake vigorously"
Orbit 20 Jellyfish Aquariums
& Jellyfish too!!
 Tank Raised Moon Jellyfish 
more info and photos further down this page
__________________________
Aqua Excel
&
Bubble Magnus
NEW Aqua Excel 12 & 16 Gallon Acrylic Nano Aquarium
includes scrubber, protein skimmer and pump inside all-in-one back filter box
           Aqua Excel LOW VOLTAGE Pumps                    REFRACTOMETER
                                                                                      AMAZINGLY LOW PRICE!!
DC-3000LV, DC-5000LV, DC-6500LV, DC-8000LV, DC-10000LV
  Features
– High performance motor with innovative electronics,
   and energy savings up to 50% more than most other pumps.
– Six speeds/RPM variable;
– Super Quiet Operation
– Used in Saltwater and Freshwater.
– No Copper Components
- 10 minutes FEED mode (provides 10 min. pause and auto resume)
Model                        Input                          Output      Watts     Q.max(l/h)   Head max(m)
DC-3000LV    AC100-240V 50/60HZ    DC 24V 2.5A    25            3000               3
DC-5000LV    AC100-240V 50/60Hz     DC 24V 4A       40            5000             3.5
DC-6500LV    AC100-240V 50/60Hz     DC 24V 5A       50            6500               4
DC-8000LV    AC100-240V 50/60Hz     DC 24V 5A       70            8000             4.5
DC-10000LV   AC100-240V 50/60Hz    DC 24V 5A       85          10000               5
BUBBLE MAGNUS
BM T11 Master Dosing Pump
BM T12 Slave Dosing Pump
BM T11 Dosing Pump Package
(with 3- 1.5 liter containers and bracket)
         AQUA EXCEL              BUBBLE MAGNUS
                   Protein Skimmer                            Protein Skimmer
                      EC-3 Skimmer w/ DC pump 210-390gal                       BM Curve 5 Skimmer 140gal
                      EC-5 Skimmer w/ DC pump 260-520gal                       BM Curve 7 Skimmer 185-240gal
               (Flow Controller Included with both EC models)                 BM Curve 9 Skimmer 240-400gal
BUBBLE MAGNUS
   BM Calcium Reactor C120     BM Biopellet Reactor BP130
3 Chamber Dosing Container
See Stock List for Special Introductory Pricing
Distributed by
SEA DWELLING CREATURES!!
 Got Plumbing?
SDC has a wide range of plumbing supplies for your needs including…
Ball Valves 
Float Valves 
True Union Ball Valves 
Single Union Ball Valves 
Flapper Check Valves 
Spring Check Valves 
Bulkheads 
Unions 
Ultra Flex PVC 
U-Tubes 
Eductors and more!!
Contact your SDC sales rep or your favorite retailer for more info.
_____________________
SDC carries one of the best names in test kits…  
SALIFERT
_______________________________________________________________________
Sea Dwelling Creatures – Sales Team

 Visit us on Facebook at:
www.facebook.com/seadwellingcreatures
 Sea Dwelling Creatures, Inc.
 5515 W. 104th St.
 310-676-9697 Phone
 310-676-9699 Fax